Canvas prints, framed art, paintings, photographs, art posters and other artwork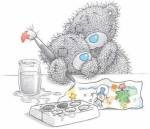 Canvas prints, framed art, paintings, photographs, art posters and other artwork can be found below. I've always wished I had artistic skills. Mine only consists of paint by number kits. My Dad while sitting at my dining room table would always comment on how much my paintings brightened the whole room. He always enjoyed looking at them. My house is filled with animal paintings, floral and landscape paintings. I'd highly recommend trying paint by number kits but a bit of patience is needed. Requiring a lot less patience is owning someone else's artwork. You can find all types of art at the sites below or make some art from your own photography. You can save with coupons, free shipping offers, promotional codes, sales and other savings included with the store descriptions.
123Posters.com, Inc. Since 1997, they've been a safe and reliable place to shop for framed art, art posters and prints. Their selection includes art, movies, music, nature, people, sports, TV and a selection for kids. Their framing is done in-house. Shipping is only available to the United States and Canada.
Oopsy Daisy
has art for kids including giclee canvas art, art prints, wall decals and more. Some of the themes include alphabet wall art, adorable baby animals, ballerinas, circus art, fairies, fashion, flowers, jungles, monsters, nursery rhymes, outer space, princesses, sports, transportation and others.

Oopsy Daisy savings:
Oopsy Daisy Discount
Original Fine Art Paintings by NOVICA World Artists
Shop from thousands of acrylic and oil paintings from talented artists worldwide. Selection includes abstract, cubist, expressionist, folk art, impressionist, realist and surrealist. They have photography prints and tapestries, as well.

Novica coupons, free shipping, sales and other savings:
Novica weekly coupons and promotions
I've featured some of my husband's photography below. You're able to purchase them as acrylic, canvas, framed, metal or other types of prints or posters. You can also purchase them featured on greeting cards, home decor items and tote bags.