Gardening - flowers, garden accents, gardening supplies and outdoor decor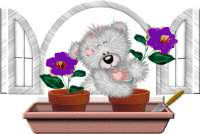 Gardening products including flowers, fountains, garden accents, gardening supplies and tools, outdoor decor, outdoor furniture and other producst for your garden can all be found below and on separate pages. On these pages you'll be able to find everything you'll need for your garden and outdoor entertainment. There are also some gardening tips. I love gardening and I don't think you necessarily have to have a green thumb to have a nice garden. Knowing which flowers like the shade, which need more sun, how often to fertilize, making sure your flowers get the amount of water they need and some attention is all that's really needed. Add a few garden accents or outdoor decor and have the proper gardening supplies, then just sit back and enjoy your garden You can save with coupons, free shipping offers, promotional codes, sales and other savings included with the store descriptions.

Just click any below to be taken to a page with that category on it:
Flowers, shrubs and trees
Barbecues and grills
Bird baths
Fountains
Garden accents
Gardening supplies and tools
Outdoor furniture
Here's a little bit more detailed description of the iteems you can find on those pages:

Flowers, shrubs and trees - Spring and Summer flowering bulbs, annuals, perennials, bushes and shrubs, ferns, ornamental grasses, trees and other garden plants.

Barbecues and grills - barbecue marinades and sauces, cooking grates, flavorizer bars, griddles, grill covers, built-in barbeque grills, charcoal grills, freestanding barbeque grills, electric grills, gas grills, portable grills, propane grills, wood pellet grills, cedar grilling planks, maple grilling planks, barbecue or grill replacement parts, rotisseries, smokers, outdoor stoves and grilling tools.

Bird baths - Hanging bird baths, lighted, pedestal, solar, stone, sundial and other types of bird baths

Fountains - barrel fountains, floor fountains, garden fountains, indoor and outdoor wall fountains, pond and pool fountains, solar fountains, tabletop fountains, waterfall fountains and some other unique fountains

Garden accents and outdoor decor - garden arbors and arches, gazing balls, farm bells, decorative benches, garden bridges, rain chains, cupolas, personalized doormats, lawn edging, decorative garden fencing, fire pits, garden flags, gazebos, patio heaters, handpainted bird houses, hummingbird feeders, door knockers, outdoor lighting, decorative mailboxes, garden markers, brass herb markers, metal garden ornaments, pergolas, planters, personalized handcrafted address plaques, decorative wall plaques, artificial rocks, bronze sculptures, path signs, garden statues, stepping stones, garden storage, sundials, trellises, weathervanes, whirligigs, wind chimes, wishing wells and other outdoor decor.

Gardening supplies and tools - garden clogs, composters, deck planters, disease edging and fencing material, fertilizers, garden gloves, planters, garden sheds, garden tools, greenhouses, hoses, knee pads, lawn care products, lawn mowers, plant supports, rain barrels, rain gauges, tree care tools, watering cans, weather stations, weed control products and other gardening supplies and tools.

Outdoor Furniture - Adirondack chairs, benches, chaise lounges, dining sets, foot rests, gliders, outdoor bar sets, planters, rockers, settees, swings, tables and tête-à-têtes. Cast iron garden benches, cedar, polyethylene recycled plastic, shorea, steel, storage, wrought iron and other types of benches. Brazilian hammocks, fabric, quilted and rope hammocks, fabric hammock chairs, rope hammock chairs, hammock loungers, rockers and swings, outdoor furniture cushions and pillows. Rattan benches, chairs, dining sets, loveseats, seating groups, sofas and rattan tables. Teak bar furniture, teak benches, chairs, chaise lounges, dining sets, seating groups, sofas and teak tables. Wicker bar furniture, chairs, chaise lounges, dining sets, loveseats, seating groups, sofas and wicker tables. Also, canopies, hanging chairs, porch swings, swing sets, patio umbrellas, umbrella stands, and other outdoor decor accessories.